Hospital and Clinic Contact Numbers :
Main line +603 5639 1212 (appointments / emergencies)
Office numbers (general queries, not for emergencies):
Office DL (clinic hours only): +603 5629 1324
Office Whatsapp text (office hours only) : +6011 5426 0018
My Other Work-related Contact Options:
Email: [email protected]
Telegram text
Whatsapp text
Email, Telegram messenger or Whatsapp are strictly not meant for medical advice, consultation or emergencies.
DO NOT Email or text Lab reports and other private/confidential health data. These should be sent only with Telemedicine.
To consult Dr Teh on medical matters please use Telemedicine only (register at https://dralanteh.net/register – you will be emailed instructions.)
You may also use the Messenger Live Chat in this website (this is also only for general enquiries and not for consultation or emergencies)
Teleconsultation
For Patients
Teleconsultation is only for follow up patients.
If you have not, please Register for my Telemedicine service.  You will be emailed instructions.
You can also register using this QR code.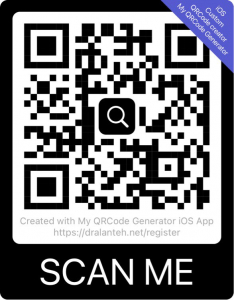 Please visit my Calendar page to book a Teleconsultation appointment
For doctors
Please use Siilo for instant and secure medical messaging to contact me
You can scan the code below
or use this link
Snail mail address:
Room 320 Outpatient Centre
Subang Jaya Medical Centre
1 Jalan SS 12/1 A
47500 Subang Jaya
Malaysia
Medical Reports
Please note I cannot issue these to you via email. You have to contact Medical Records at level 2, Outpatient Centre, Subang Jaya Medical Centre. You may email them [email protected] for more information on the process